By Steve Sjuggerud and Brett Eversole, True Wealth Systems (Original Link)
The "BRICs" – Brazil, Russia, India, and China – are the four countries destined to be major world powers by 2050.
According to investment banking giant Goldman Sachs, the BRICs will grow to become four of the six largest world economies over the next 38 years.
Today's powers, like Germany and Japan, are expected to fall below them. And by 2050, China will become the world's largest economy… nearly twice the expected size of the United States…
With extraordinary growth comes extraordinary investment returns… if you buy at the right time.
Today, these countries are hated. They're cheap. And they're beginning what could be a new uptrend. We could have a near-perfect opportunity to buy the BRICs very soon.
Let me explain…
The BRICs have outperformed the S&P 500 by sixfold in the last 10 years.
A $10,000 investment in the BRICs in 2002 would be worth almost $40,000 today. The same $10,000 in the S&P 500 would be worth just $15,000.
While the BRICs offer enormous potential gains, they also come with increased risk. And when sentiment turns negative, these countries crash. This happened in 2008 as the BRICs fell 65%. And it's happening again today…
The easiest way to see this sentiment is to look at the shares outstanding in a major BRIC fund like the SPDR S&P BRIC 40 Fund (NYSE: BIK). When investors sell off their BIK shares, the fund's size shrinks. The fact that shares outstanding are falling shows investors want nothing to do with the BRICs…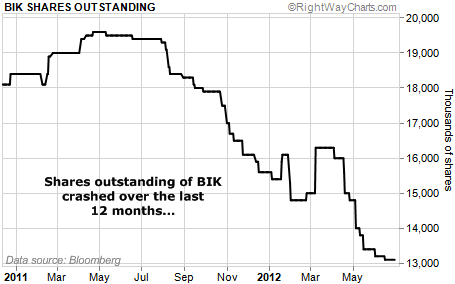 Shares outstanding of BIK are down 32% in the last year. More important, they are down 20% since early April… That coincided with a 14% fall in its share price.
After the recent crash, major BRIC companies are now trading at crazy cheap prices. Take a look…
| | | | |
| --- | --- | --- | --- |
| Company  | Ticker  | Fwd P/E  | Dividend Yield  |
| China Mobile  | CHL  | 11.0  | 3.9%  |
| Vale  | VALE  | 5.5  | 5.8%  |
| Petrobras  | PBR  | 6.1  | 5.3%  |
| Itau Unibanco  | ITUB  | 6.9  | 4.6%  |
Another important detail here… These BRIC companies aren't speculative, small-cap stocks. They are giant, blue-chip companies. They all trade in the U.S. They are REAL, PROFITABLE businesses.
Looking at our table above… China Mobile is China's largest telecommunications company. Brazil's Vale and Petrobras, respectively, are two of the world's largest mining and oil companies.
You get the idea… When you invest in the BRICs, you're not speculating on questionable businesses. You're buying huge, blue-chip companies. Our real bet is on the growth of the underlying economies.
So we know these stocks are cheap and hated… but what about the uptrend? We don't have it… yet.
Shares of BIK appear to be forming a bottom. But they haven't begun to push higher. Until that happens, we're not buying the BRICs.
When this trend turns up, we could easily make triple-digit gains in the BRICs. These companies are dirt-cheap and should rise dramatically once they build upward momentum.
This is a trade we're watching closely in my True Wealth Systems service. If things simply get "less bad" and the uptrend returns, chances are good we'll be buying the BRICs very soon.
For now, keep shares of BIK at the top of your shopping list. We'll let you know when it's time to buy.
Good investing,
Steve Sjuggerud and Brett Eversole
Further Reading:
Longtime DailyWealth readers know to listen when Steve talks about assets that are "cheap, hated, and in an uptrend."
In 2011, with all of his favorite criteria in place for the biotech sector, Steve shared four dirt-cheap companies to keep an eye on. Today, the group is up 13% on average… compared to a 2% gain in the S&P 500.