By Frank Curzio, editor, Phase 1 Investor (Original Link)
America's favorite personal computer stocks are in big trouble.
On Tuesday, Dell collapsed 17% after reporting terrible earnings. The third-largest PC-maker shed $4.5 billion of its $22 billion market cap in 24 hours.
One day later, Hewlett-Packard also reported weak results. Its profit fell 31% from last year. The stock initially moved higher on the news… The bellwether PC manufacturer announced it would cut 27,000 jobs – a cost savings of $3.5 billion.
This really isn't a surprise. As longtime Growth Stock Wire readers know, a fundamental change is taking place in the PC industry… It's the "death of the PC." And it's undermining the core business of these two tech giants.
To make money on the dramatic shift that's happening here, you should buy shares of a stock the contrarian in me would rather bet against…
The PC industry as we know it is on its last legs.
Consumers are buying tablets instead of laptops. Tablets are lightweight touchscreen computers (like iPads). Most people use tablets to play music, watch movies, send e-mails, check the weather, and surf the Internet.
In 2011, 68.7 million tablets were sold. According to research technology firm Gartner, more than 650 million tablets will be sold by 2016 – outpacing PC demand by more than 100 million units.
Dell and Hewlett-Packard are struggling to adapt to this new trend. They've seen a significant slowdown in PC sales, their core business…
• Dell saw a 10% decline in its computer segment year over year.
• HPQ's profits are down 31% year over year.
That's why their stocks are now drastically underperforming the S&P 500…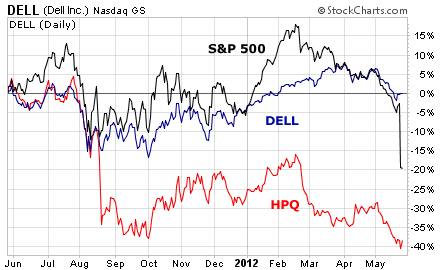 But while these tech giants struggle, one leading electronic device-maker is thriving…
I'm talking about Apple. The consumer electronics behemoth sells millions of its signature tablet, the iPad, every month. Sales of the device are up 150% year over year. And despite the already-massive growth, this trend is still in its infancy.
Gartner predicts the iPad will ultimately capture 45% of the tablet market. (That's the equivalent of selling 300 million tablets.) For context, Apple expects to sell 60 million iPads in 2012.
If Gartner is right, more pain lies ahead for major PC-makers like Dell and Hewlett-Packard… and Apple will continue to thrive.
The contrarian in me wants to bet against Apple. After all, most analysts rate the stock a buy. And the average target price on the stock is $740, almost $200 higher than the current price.
Usually, I run away from these types of "loved" stocks. That's because when everyone is leaning toward one side, the opposite tends to happen. But the weakness in Dell and Hewlett-Packard is a clear sign of Apple's dominance. Over the next three years, this trend will only grow stronger as more consumers buy tablets.
Turning to the fundamentals, Apple is trading at just 10 times next year's earnings. That's super-cheap – the company has managed to grow its earnings by 94% over the past 12 months.
Plus, Apple is sitting on a $100 billion pile of cash. That's enough cash to buy both Dell and Hewlett-Packard at their current market caps. It's also enough for Apple to support its $45 billion dividend and buyback initiative.
Based on fundamentals, growth, and pure dominance over its competitors, I suggest you buy Apple on the recent pullback.
Good investing,
Frank Curzio
Editor's note: For more insight and actionable investment advice on the lowest-risk, highest-profit trades in the market, consider a trial subscription to Growth Stock Wire. Click here for details.
Further Reading:
A year ago, Frank called Apple 
one of the world's best 'bank accounts'
. 
"You could take the super-safe route, put your money in cash, and earn next to nothing in interest," he wrote. "But Apple is the better play." Even with the recent pullback, Apple shares are up nearly 65%… while folks who held cash in their bank accounts are still earning next-to-nothing.
This week, Larsen Kusick told 
Growth Stock Wire 
readers the "gadget boom" is still on… But there are signs of trouble for some high-flying stocks in the "boom and bust" semiconductor sector, which provides the chips that go into smartphones like Apple's iPhone. Get his warning here: 
A Major Blow to a Long-Term Tech Uptrend
.