By Matt Badiali, editor, S&A Resource Report (Original Link)
Gold-stock investors aren't making any money.
My colleague Frank Curzio explained why last month. The cost of producing an ounce of gold is soaring. The rising prices of heavy equipment, mine infrastructure, roads, labor, electricity, and fuel are all eating into the bottom line.
Major gold miner Barrick Gold, for example, saw its cost of production rise 22% from 2011 to 2012. That's a huge increase. It's hurting profits… and it's hurting shareholders, who are down 20% over the last year.
But not all gold stocks are suffering. A few couldn't care less about the cost of permits or infrastructure. They're getting paid regardless. Let me explain…
I'm talking about "royalty companies."
Gold royalty companies have a unique business. They are like loan sharks in the gold space. They give the mines cash – often well before the mine is in production – in exchange for a cut of the gold production.
They buy long-term gold contracts with miners… then show up every quarter to get paid.
Cost of drill steel rising? Fuel bills getting expensive? Miners' union raising wages? No worries. They still get paid.
In other words, these companies are largely immune to the rising cost of mining gold.
A great example of this group is a company called Royal Gold (RGLD). Here's a chart of its cost per ounce of gold versus the average gold price since 2009…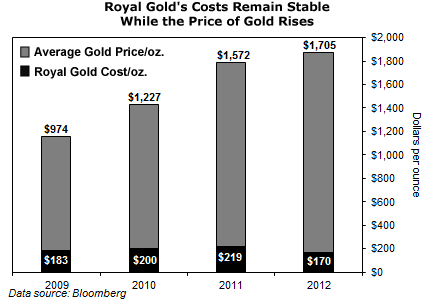 As you can see, Royal Gold's cost per ounce varied from $219 per ounce on the high side to just $170 per ounce in its most recent quarter.
You might remember from Frank's essay that the cost to mine an ounce of gold rose from $464 in 2009 to $662 last year… more than three times Royal Gold's cost.
As the gold price has risen, Royal Gold has been able to bank more profit per ounce. But gold producers have lost a lot of those gains to rising costs. The difference is showing up in the share price…
Over the last two years, the price of gold is up about 35%. The big gold stock fund (GDX) is down about 10%. But Royal Gold shareholders are looking at a 70% gain.
The gold royalty company outperformed gold miners by 80 percentage points. It climbed while the big gold miners failed.
If you want to profit from gold mining, you're better off with companies that can sidestep the rising cost of production. Gold royalty companies like Royal Gold are the way to go.
Good investing,
Matt Badiali
P.S. I recently wrote a research report dedicated to this subject. It outlines each royalty company, its major holdings, future gold production, and the exact price to pay to get in. If you want make triple-digit gains on royalty stocks, this is a must-read. Learn how to get a copy right here.
Further Reading:
Royalty companies aren't limited to gold. Last year, Steve told DailyWealthreaders about a silver royalty company he dubbed "a double in waiting." And while shares have been particularly volatile, the story is one you won't want to miss.
"Corrections in silver are often violent," he writes. "So I will wait for this correction to pass – I will wait for the uptrend to resume – before buying back in again." Get the full story on this company and be ready to buy when the uptrend returns here.